I had a delicious breakfast this morning! Eggnog Overnight Oatmeal! :D
I got the recipe from
Peanut Butter Fingers
. I found it a while back and was disappointed that I couldn't try it because we didn't have any eggnog, but I bought some. The same kind as she shows in the recipe post and it is delicious! And so much healthier for you. I was so happy to find it at my local Walmart. :)
Anyway, here is the recipe:
Eggnog Overnight Oats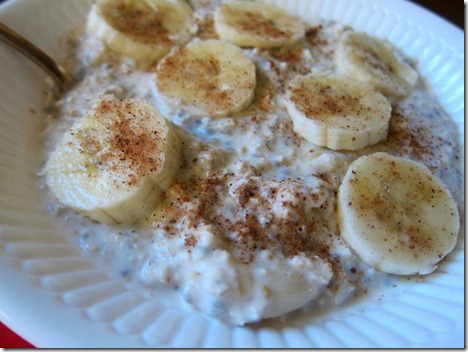 Picture courtesy of Peanut Butter Fingers
Original Recipe:
2/3 cup Old Fashioned Oats
1 Tablespoon Chia Seeds
6 oz. Greek Yogurt 2%
1/3 cup Eggnog
Added later:
Sliced Banana
Sprinkle of Nutmeg
What I did:
2/3 cup Old Fashioned Oats
1/3 cup Eggnog
1/3 cup Unsweetened Vanilla Almond Milk
Added this morning:
6 oz. Low Fat Vanilla Greek Yogurt
1 banana (sliced)
Sprinkle of Nutmeg
I don't have Chia seeds, I've looked for them and can't find them at any stores I shop at regularly and I'm not going to go to some random store just to buy one thing. It's just one more stop I have to make on my already crazy errand day.
I let those three ingredients soak overnight then this morning I added the yogurt, a TINY bit more Almond milk and mixed it all together. It came together so nicely! It was smooth and creamy, minus the oats (haha). Then I topped it off with my sliced Banana and nutmeg.
I will definitely be making this again, however I wont use any Almond milk for soaking, just to add moisture in the morning. I think it diluted the eggnog a little to much. It was still delicious though! Enjoy! Thanks Peanut Butter Fingers!
Until Next Time!
Spicy